How this site works
The best way to learn its structure and functions is simply to browse through it.
Additional questions, concerns, or comments
If you have questions not answered in the FAQ, discovered a problem or bug, or just want to give us some feedback, please contact the Team Leader.
Browser requirements
To function well, this site requires modern browsers such as Mozilla, Firefox, Safari, Opera 6+, Navigator 6+, and Internet Explorer 6+.
Power Users
Check out the Keyboard Shortcuts. They save time and reduce stress on your mousing wrist.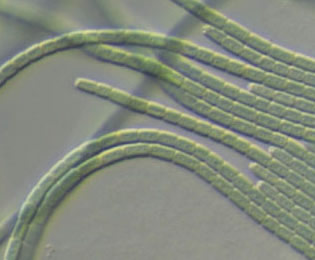 Oscillatoria limnetica. This blue-green alga dominates the autumnal bloom in lakes in Loch Vale, Rocky Mountain National Park, Colorado. It is much more sensitive to acid conditions than Asterionella formosa, a planktonic diatom that dominates the spring bloom. Photo: MCC-NIES Japan.