IMAGES, TAXONOMY, & COUNTS
OF LAKE ALGAE

Niwot Ridge LTER, CO
Rocky Mountain Nat'l Park, CO
and more sites to come...
Images that assist algae identification.
Taxonomy including length, width, original type description, and references.
Counts of algal abundances in different lakes, at different depths, etc.
Lake information such as location, setting, map, and photos.
Getting Started
WHAT ARE ALGAE?
FIND TAXA
EXPLORE GREEN LAKE 4
GREEN LAKE 4 RESOURCES
Background

Info

This site is part of an ongoing larger effort to study the ecology and biogeochemistry of Rocky Mountain Lakes. Website development was supported by the Niwot Ridge Long-Term Ecological Research Site and the National Science Foundation.
See Acknowledgements
Future

Plans

We are considering adding algae samples from other lakes in the Rocky Mountains. If you would like your samples to be included or would like to contribute taxononomic information or images...
Please contact us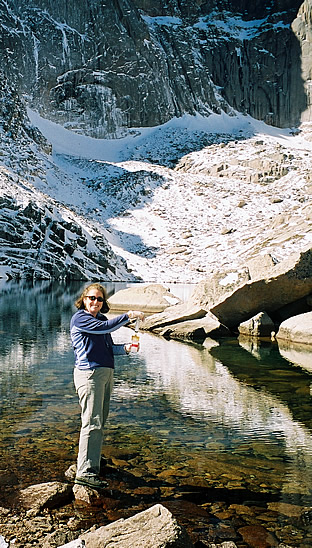 Leora Nanus Gurdak samples water from Chasm Lake, Rocky Mountain National Park. She was studying sensitivity criteria for atmospheric pollution to lakes in the National Parks of the Rocky Mountains
Check out our related sites:
Diatoms of the United States
Antarctic Freshwater Diatoms
Antarctic Cyanobacteria