| Cell | Chlorophyll | Pigments | Membranes | Thylakoids | Storage | Covering | Flagella |
| --- | --- | --- | --- | --- | --- | --- | --- |
| Eukaryotic | a and c | Fucoxanthin and ß carotene | 4 | 4 | chrysolaminarin and lipids | silica frustule | 1, reproductive cells only |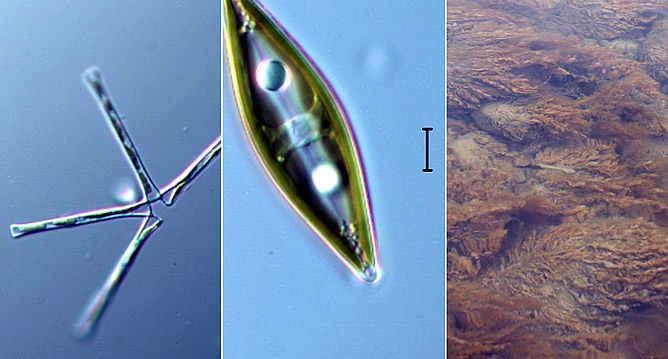 | | | |
| --- | --- | --- |
| Kalina Manoylov | Kalina Manoylov | Sarah Spaulding |
The Division Bacillariophyta, or diatoms, are algae with a distinct silica cell wall called a frustule.
Diatoms grow as single cells, or form simple filaments or colonies. The division Bacilliariophyta is distinguished by the presence of an inorganic cell wall composed of silica (hydrated Si02). The wall, or frustule, is composed of two parts called "valves". The silica of diatom frustules may be in elaborate patterns and forms that reflect the types of habitat to which the particular species is adapted. Diatoms are abundant in nearly every habitat where water is found – oceans, lakes, streams, mosses, soils, even the bark of trees. They form the base of aquatic food webs in marine and freshwater habitats. Diatoms photosynthesize using chlorophylls a and c. Their accessory pigments fuxothanthin and ß carotene give them a characteristic golden color. Cells store energy from photosynthesis in the form of chrysolaminarin and lipids. The high production of lipids in many diatom species has created great interest in diatoms as a source of biofuels. Indeed, as one of the important global sources of carbon fixation, diatoms already are an important "biofuel" for aquatic food webs. It is estimated that 40% of the earth's oxygen (02) is produced through the photosynthetic activities of diatoms.
Structure
The ornamentation of the diatom frustule is species specific, that is, scientists identify species based on the silica shapes and forms. Two major groups are recognized within the diatoms: 1) Coscinodiscophyceae, or centric diatoms, cells with radial symmetry (about a point) and 2) Bacillariophyceae, or pennate diatoms, cells with bilateral symmetry (about a line). The centric diatoms lack motility, but the pennate diatoms may possess motility. Cells with a structure termed a raphe are able to move across surfaces.
Diatoms in Rocky Mountain Lakes
Diatoms are abundant in lakes, streams, ponds, mosses and soils of the Rocky Mountains. Their silica frustules are preserved in the sediments of lakes and the frustules accumulate with each year's growth of plankton. Sediment cores of Rocky Mountain lakes (and the diatoms they contain) have been important in determining the history of lake basins and environmental change.
145 taxa shown below, 137 of which appear in at least one sample.
| Name | Basionym | Synonyms | Lakes | Samples | Region* | ID |
| --- | --- | --- | --- | --- | --- | --- |
| Achnanthes affinis | | Achnanthes minutissima var. affinis (Grunow) Lange-Bertalot | 2 | 12 | RMNP, | 1001 |
| Achnanthes austriaca | | | 1 | 2 | RMNP, | 1002 |
| Achnanthes clevei (clevii) | | | 2 | 2 | RMNP, SLW, | 1003 |
| Achnanthes detha | | | 2 | 46 | RMNP, | 1004 |
| Achnanthes exigua | | | 1 | 1 | RMNP, | 1142 |
| Achnanthes hustedii | | | 1 | 1 | SLW, | 1005 |
| Achnanthes lanceolata | | | 1 | 4 | RMNP, | 1006 |
| Achnanthes lemmermannii | | | 1 | 9 | SLW, | 1007 |
| Achnanthes levandera | | | 1 | 2 | RMNP, | 1132 |
| Achnanthes levanderii | | | 1 | 12 | SLW, | 1008 |
| Achnanthes linearis | Achnanthidium lineare W. Smith | | 4 | 14 | RMNP, | 1009 |
| Achnanthes linearis f. curta | | | 1 | 1 | RMNP, | 1010 |
| Achnanthes marginulata | | | 3 | 12 | RMNP, SLW, | 1011 |
| Achnanthes microcephala | | | 2 | 2 | RMNP, | 1133 |
| Achnanthes minutissima | | Achnanthidium lanceolatum f. minutissimum, Microneis minutissima, Achnanthidium minutissimum | 1 | 5 | RMNP, | 1012 |
| Achnanthes pinnata | | | 1 | 1 | SLW, | 1013 |
| Achnanthes sp | | | 3 | 14 | RMNP, SLW, | 1014 |
| Achnanthes stewartii | | | 1 | 5 | SLW, | 1015 |
| Achnanthes sublaevis | | | 1 | 3 | SLW, | 1016 |
| Amphora veneta | | | 1 | 3 | SLW, | 1017 |
| Anomoeneis vitrea | | | 1 | 1 | SLW, | 1018 |
| Anomoeoneis serians var. brachysira | | | 2 | 3 | RMNP, | 1019 |
| Anomoeoneis serians var. familiaris | | | 1 | 1 | RMNP, | 1134 |
| Asterionella formosa | | | 3 | 187 | RMNP, | 1020 |
| Aulacoseira distans | | | 1 | 13 | SLW, | 1021 |
| Aulacoseira granulata | | | 1 | 11 | SLW, | 1022 |
| Aulacoseira lirata | | | 1 | 13 | SLW, | 1023 |
| Aulacoseira perglabra | Melosira perglabra | Melosira perglabra, Aulacoseira lirata var. perglabra , Aulacoseira perglabra , Aulacoseira perglabra | 1 | 13 | SLW, | 1024 |
| Brachysira sp. | | | 1 | 2 | SLW, | 1025 |
| Brachysira vitrea | Gomphonema vitreum | | 0 | 0 | | 1026 |
| Caloneis bacillum | | | 2 | 2 | RMNP, | 1027 |
| Caloneis sp. | | | 1 | 1 | RMNP, | 1028 |
| Caloneis ventricosa | Navicula ventricosa | | 1 | 2 | SLW, | 1029 |
| Caloneis ventricosa var. alpina | | | 1 | 1 | RMNP, | 1143 |
| Cyclotella ocellatta | | | 1 | 1 | SLW, | 1030 |
| Cyclotella sp. | | | 1 | 1 | RMNP, | 1135 |
| Cyclotella stelligera | Cyclotella graeca var. stelligera? | | 3 | 40 | RMNP, SLW, | 1031 |
| Cymbella laevis | Cymbella gracilis | | 1 | 1 | SLW, | 1032 |
| Cymbella leptoceros | | | 1 | 5 | SLW, | 1033 |
| Cymbella lunata | | CAN"T READ HANDWRITTEN NOTATION | 2 | 6 | RMNP, SLW, | 1034 |
| Cymbella minuta | | Cymbella gracilis var. minuta, Encyonema ventricosum var. minutum, Cymbella ventricosa f. minuta,Encyonema minutum | 3 | 18 | RMNP, SLW, | 1035 |
| Cymbella minuta var. latens | | | 1 | 3 | RMNP, | 1036 |
| Cymbella minuta var. silesica | | | 1 | 5 | RMNP, | 1037 |
| Cymbella navicuformis | | | 1 | 1 | SLW, | 1038 |
| Cymbella sp | | | 2 | 3 | RMNP, SLW, | 1039 |
| Diatoma anceps | | | 3 | 15 | RMNP, SLW, | 1040 |
| Diatoma heimale | | | 1 | 3 | SLW, | 1041 |
| Diatoma hiemale var. mesodon | | | 2 | 49 | RMNP, | 1042 |
| Diatoma vulgare | | | 1 | 1 | SLW, | 1043 |
| Eunotia bigibba var. pusilla | | | 1 | 1 | RMNP, | 1136 |
| Eunotia curvata | | | 1 | 9 | SLW, | 1044 |
| Eunotia incisa | | | 2 | 3 | RMNP, | 1045 |
| Eunotia pectanalis (pictinalis) | | | 3 | 6 | RMNP, SLW, | 1046 |
| Eunotia sp. | | | 0 | 0 | | 1047 |
| Fragilaria brevistriata | | | 1 | 12 | SLW, | 1048 |
| Fragilaria capucina | | | 2 | 6 | RMNP, | 1049 |
| Fragilaria construens | | | 2 | 15 | RMNP, SLW, | 1050 |
| Fragilaria construens var. venter | | | 2 | 4 | RMNP, | 1051 |
| Fragilaria crotonensis | | | 2 | 9 | RMNP, | 1052 |
| Fragilaria leptostauron var. dubia | | | 1 | 3 | RMNP, | 1053 |
| Fragilaria pinnata | | | 4 | 46 | RMNP, SLW, | 1054 |
| Fragilaria sp. | | | 1 | 36 | SLW, | 1130 |
| Fragilaria vaucheriae | | | 0 | 0 | | 1055 |
| Fragilaria virescens | | | 3 | 14 | RMNP, SLW, | 1056 |
| Frustulia rhomboides | | | 3 | 11 | RMNP, SLW, | 1057 |
| Gloecystis sp. | | | 1 | 1 | RMNP, | 1145 |
| Gomphonema angustatum | | | 2 | 11 | RMNP, SLW, | 1058 |
| Gomphonema olivaceum | | | 1 | 1 | SLW, | 1059 |
| Gomphonema parvulum | | | 1 | 8 | SLW, | 1060 |
| Gomphonema sp. | | | 2 | 2 | RMNP, | 1061 |
| Hannaea arcus | | | 2 | 39 | RMNP, SLW, | 1062 |
| Hannaea arcus var. amphioxys | | | 1 | 3 | RMNP, | 1063 |
| Hantzschia amphioxys | | | 2 | 2 | RMNP, | 1064 |
| Melosira arentii | | | 1 | 2 | SLW, | 1065 |
| Melosira lirata | | | 5 | 71 | RMNP, | 1066 |
| Melosira perglabra | | | 0 | 0 | | 1067 |
| Melosira sp. | | | 1 | 1 | RMNP, | 1137 |
| Meridion circulare | | | 2 | 31 | RMNP, | 1068 |
| Meridion circulare var. constrictum | | | 1 | 1 | RMNP, | 1138 |
| Navicula arvensis | | | 2 | 10 | RMNP, SLW, | 1069 |
| Navicula cocconeiformis | | | 1 | 12 | SLW, | 1070 |
| Navicula contenta var. biceps | | | 3 | 5 | RMNP, | 1071 |
| Navicula cryptocephala | | | 1 | 7 | SLW, | 1072 |
| Navicula cryptocephala var. venta | | | 1 | 1 | RMNP, | 1073 |
| Navicula cuspidata | | | 1 | 1 | RMNP, | 1074 |
| Navicula elginensis var. lata | | | 1 | 1 | RMNP, | 1075 |
| Navicula eligensis | | | 1 | 2 | SLW, | 1076 |
| Navicula gastrum | | | 1 | 1 | SLW, | 1077 |
| Navicula gysingensis | | | 1 | 12 | SLW, | 1078 |
| Navicula jaerefeltii | | | 1 | 1 | SLW, | 1079 |
| Navicula laevissima | | | 1 | 5 | SLW, | 1080 |
| Navicula lateropunctata | | | 1 | 5 | SLW, | 1081 |
| Navicula luzonensis | | | 2 | 2 | RMNP, | 1082 |
| Navicula minima | | | 3 | 25 | RMNP, SLW, | 1083 |
| Navicula miniscula | | | 3 | 15 | RMNP, SLW, | 1084 |
| Navicula mutica | | | 2 | 4 | RMNP, SLW, | 1085 |
| Navicula notha | | | 1 | 2 | RMNP, | 1086 |
| Navicula pseudoscutiformis | | | 3 | 22 | RMNP, SLW, | 1087 |
| Navicula pulpula | | | 2 | 13 | RMNP, SLW, | 1088 |
| Navicula radiosa | | | 2 | 2 | RMNP, | 1089 |
| Navicula schmassmannii | | | 2 | 22 | RMNP, | 1090 |
| Navicula seminulum | | | 1 | 7 | SLW, | 1091 |
| Navicula sp. | | | 2 | 4 | RMNP, | 1092 |
| Navicula subbacillum | | | 1 | 1 | RMNP, | 1093 |
| Navicula variostriata | | | 1 | 12 | SLW, | 1094 |
| Navicula viridula | | | 2 | 3 | RMNP, | 1095 |
| Navicula viridula var. aveame | | | 2 | 2 | RMNP, | 1096 |
| Neidium sp. | | | 2 | 2 | RMNP, SLW, | 1097 |
| Nitzschia agnewii | | | 0 | 0 | | 1098 |
| Nitzschia dissipata | | | 1 | 1 | RMNP, | 1099 |
| Nitzschia frustulum | | | 2 | 3 | RMNP, | 1100 |
| Nitzschia intermedia | | | 1 | 11 | SLW, | 1101 |
| Nitzschia linearis | | | 2 | 6 | RMNP, | 1102 |
| Nitzschia microcephala | | | 1 | 3 | RMNP, | 1103 |
| Nitzschia palea | | | 2 | 7 | RMNP, SLW, | 1104 |
| Nitzschia paleacea | | | 1 | 6 | RMNP, | 1105 |
| Nitzschia sp. | | | 0 | 0 | | 1106 |
| Pinnularia abaujensis var. rostrata | | | 1 | 1 | RMNP, | 1107 |
| Pinnularia biceps | | | 1 | 11 | SLW, | 1108 |
| Pinnularia borealis | | | 2 | 10 | RMNP, | 1109 |
| Pinnularia caudata | | | 1 | 3 | SLW, | 1110 |
| Pinnularia sp. | | | 1 | 1 | RMNP, | 1111 |
| Rhizosolenia eriensis | | | 2 | 3 | RMNP, | 1112 |
| Rhopalodia gibba | | | 1 | 1 | RMNP, | 1113 |
| Sphondylosium planum | | | 2 | 2 | RMNP, | 1139 |
| Stauroneis anceps | | | 1 | 11 | SLW, | 1114 |
| Stauroneis phoenicenteron | | | 1 | 1 | RMNP, | 1140 |
| Stauroneis smithii | | | 2 | 5 | RMNP, SLW, | 1115 |
| Surirella angusta | | | 2 | 2 | RMNP, SLW, | 1116 |
| Surirella linearis | | | 1 | 11 | SLW, | 1117 |
| Surirella sp. | | | 1 | 1 | RMNP, | 1118 |
| Synedra cyclopum | | | 1 | 8 | SLW, | 1119 |
| Synedra famelica | | | 0 | 0 | | 1120 |
| Synedra parasitica | | | 1 | 5 | SLW, | 1121 |
| Synedra pmansitica | | | 1 | 1 | RMNP, | 1122 |
| Synedra radians | | | 3 | 21 | RMNP, | 1123 |
| Synedra rumpens | | | 2 | 18 | RMNP, | 1124 |
| Synedra rumpens var. familiaris | | | 3 | 55 | RMNP, | 1125 |
| Synedra rumpens var. rumpens | | | 2 | 8 | RMNP, | 1141 |
| Synedra sp. | | | 2 | 60 | RMNP, SLW, | 1126 |
| Tabellaria fenestrata | | | 0 | 0 | | 1127 |
| Tabellaria flocculosa | | | 2 | 4 | RMNP, SLW, | 1128 |
| Tabellaria quadrisepta | | | 1 | 1 | RMNP, | 1144 |
| Unknown bacilariophyte | | | 1 | 34 | SLW, | 1131 |
| unknown pennate | | | 1 | 5 | SLW, | 1129 |
Region:
RMNP = Rocky Mountain National Park, CO
SLW = Silver Lakes Watershed, CO